Blog
London Event 5 July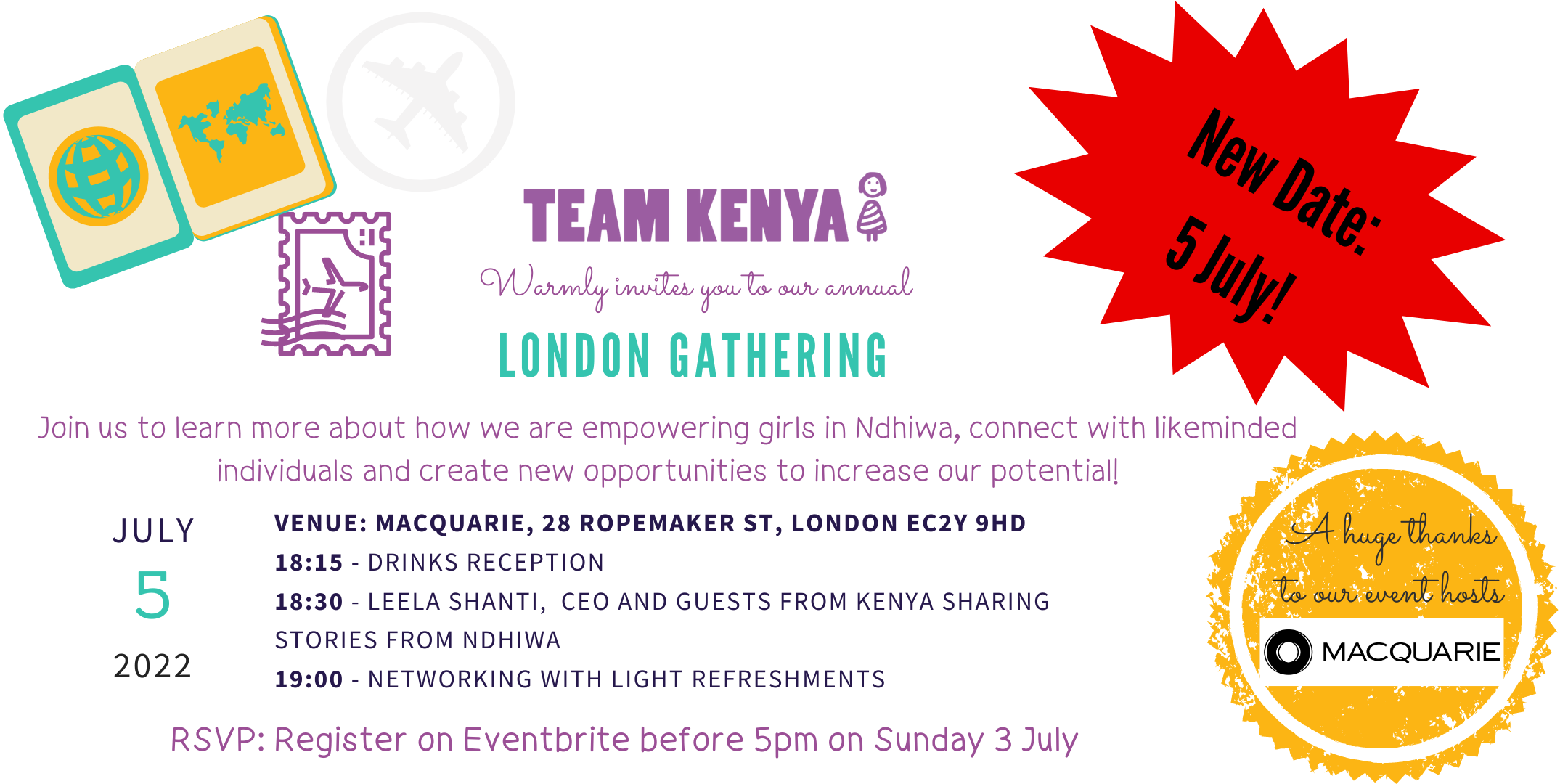 Team Kenya invites you to join us for an in person networking event where we will be sharing inspiring stories from Ndhiwa and amplifying the voices of the community, who are transforming lives though our collaboration with Twende Pamoja and the generosity of our donors.
Date: Tuesday 5 July 2022
Time: 18:15 – 19:45
Venue: Macquarie, London EC2Y 9HD
What to expect…
• 18:15 Drinks reception
• 18:30 – Main event starts. Hear from Leela Shanti, CEO of Team Kenya, members of Team Kenya's supporters and a few guest appearances from Kenya too!
• 19:00 – Networking
• 19:45 – Event ends
If you are unable to attend in person we will have a Zoom link for you to attend the event virtually. Simply click on the link below and register for an Online Ticket.
CLICK HERE TO REGISTER YOUR PLACE 
This is a great opportunity to meet Leela Shanti, Team Kenya's new CEO, who will be sharing her experiences from her recent travels to Kenya. Leela is in Ndhiwa working closely with the Twende Pamoja Senior Leadership Team. At the event you will learn more about the plans and ambitions for the future steered by this remarkable group of leaders.
Join us to connect and network with likeminded individuals who share our vision for gender equality for all girls in Ndhiwa, where they can access opportunities to meet their full potential. We are look forward to welcoming everyone who is interested in making a positive difference and direct impact on girls' education, economic empowerment, food security and safer communities for vulnerable and marginalised people in Ndhiwa.
We would like to say a huge thank you to our Trustee, Frit, and the amazing team at Macquarie for the generous use of their office space in London. Without your kind support this event would not be possible.