Team Kenya In Conversation with Anatalia
Tuesday 27 July at 6pm (UK) / 8pm (Kenya)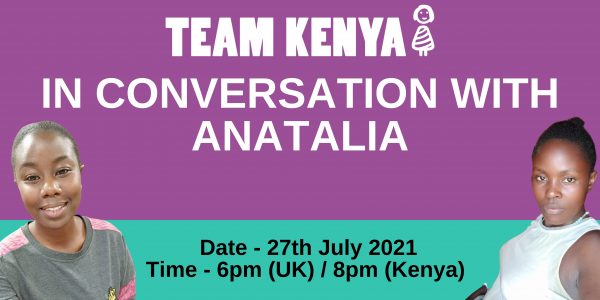 Team Kenya welcomes you to join us on an online platform created to ensure that the voices of marginalised women and girls are included in the global movement for gender equality. For our first online event, we are pleased to welcome to our virtual stage to Anatalia, one of 20,000 girls whose lives have been transformed by the Team Kenya and Twende Pamoja partnership since 2008.
We are delighted to offer a virtual platform, with an international audience where Anatalia can tell her inspiring story and raise awareness of the cruel injustices that girls in Ndhiwa face. 
About Anatalia
Anatalia is a children's rights and gender equality activist living in Ndhiwa, Homa Bay County Nyanza Province in Kenya. In addition to being a mother to Serafin, Anatalia is the main breadwinner for her family providing for her mother and five siblings. Anatalia is a survivor of child abuse and gender based violence including child marriage, sexual assault and child exploitation. Unlike many girls in Homa Bay, Anatalia has completed her school education in full, In December 2021, Anatalia will be graduating from Maseno University, where she studied a Bachelor Degree in Procurement and Supply Chain Management with IT. Anatalia is currently volunteering with Twende Pamoja.
"All my experiences with Team Kenya have made me confident, strong, happy and a good problem solver, who can manage several issues and also give guidance. For now I am happy that I am part of those creating awareness on child rights and working to stop gender based violence."
– Anatalia