Great North Run
The Great North Run is a run like no other, dubbed 'The World's Favourite Run', the Great North Run is the largest half marathon in the world, taking place annually in North East England. Participants run a scenic route between Newcastle upon Tyne and South Shields.
Every year  Team Kenya have a limited number of places available for keen runners and fundraisers!
In 2015, our fantastic runners raised £3,416 which was spent directly on our projects in Ndhiwa, Kenya. This year we have more spaces available and hope to raise even more!
As a Team Kenya runner, you will be supporting a small charity, founded in the North East of England, focused on transforming communities in rural Kenya through sustainable development and investing in girls and women to create a level playing field for all.
Unlike many larger organisations, you can be sure the money you work so hard to fundraise will be spent directly on project costs in Kenya. You will receive a Team Kenya running vest and a sponsorship pack to help you prepare for the run and raise the most money you can.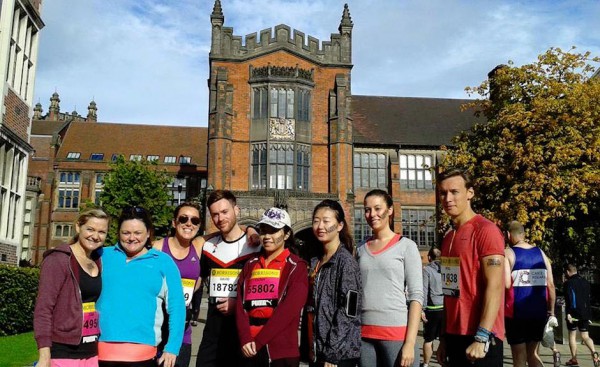 Sponsored Challenges
Every year, amazing people just like you go solo or gather their friends and challenge themselves to raise money for people living in poverty in rural Kenya. From shaving your hair off, jumping out of an airplane, climbing a mountain, zip-wiring off the Tyne Bridge or cycling from Brighton to Bruges, the possibilities are endless!
If you've got a great idea and are up for a challenge, get in touch and we will help you every step of the way!