Schools
There are many ways in which you and your school, college or university can be involved with Team Kenya:
Raise awareness for our cause in your school and organise fundraising activities which could support projects in schools and the community in Ndhiwa. These collaborative projects are led by our grassroot partner, Twende Pamoja. Did you know that student activities can be used towards a qualification, such as the NCFE Volunteering L1 and L2 Awards!
Work with Team Kenya in a partnership that would include a collaboration with a partner school in Ndhiwa. Partnerships are bespoke and can include shared peer-to-peer learning and international collaboration on curriculum activities. Partnerships offer meaningful opportunities for your students to develop an awareness of global citizenship.
School Partnerships also offer opportunities for teachers to take part in bespoke visits to Kenya. You will stay at Karibuni Eco-Cottages, where experienced staff who are part of our Enterprise programmes, will look after you during your stay and esure an experience of a lifetime. There are opportunities for individual teachers or groups of teachers to take on a fundraising challenge (such as climbing Mount Kenya). Peer-to-peer learning opportunities with teachers from your local partner school are possible and these are based on shared learning exchange. Trips are set up as reciprocal visits and Team Kenya can offer advice on how to raise and access funds to cover costs.
Work with us to develop our interactive map of Ndhiwa and help create a bank of teaching and learning resources around Global Citizenship, Geography and many other subjects.
To find out more or to access our School Partnership Brochure please contact us
Fundraising & Volunteering
At Team Kenya the majority of our staff and volunteers were once teachers so we know how little time you have to dedicate to extracurricular activities. The best fundraising activities are the ones that are the most fun, easy to organise, raise the most awareness and the most money without being too time consuming. Here are some tried and tested ideas:
Fundraising competition
Sponsored Park Run
Bake sale
Non-uniform day
Staff hair cut or head shave
Buy a solar lamp initiative for staff
Raffles
Supermarket bag packs
Talent shows
20 pences in Smartie tubes
Encouraging your students to get involved in fundraising has many advantages;
Giving back and helping others is extremely rewarding (for both you and your students)
Helps towards gaining qualifications such as the Duke of Edinburgh Award credit/points towards your course at university
Developing skills; organisation, team building, communication…
Learning new things about yourself; your strengths and your passions
Gaining work experience and making links with potential employers
Meeting new people from various backgrounds
It looks great on your CV and UCAS applications
Fantastic opportunity to get your school in the local press
Partnership with a Kenyan School
"International school partnerships inspire students to fully engage with lessons through joint learning activities focusing on global themes." – British Council
Here at Team Kenya we can support you in accessing funding for a grant (up to £10K) to be involved in an exchange programme. We will match your school to one of our schools in Kenya and help you maintain a relationship so both staff and students in the UK and Kenya can benefit, for example;
visit a school in Kenya, collaborate and plan how to embed global themes into your curricula
equip students with the skills they need to thrive in an increasingly global world
take part in fully-funded training for leaders and teachers, face-to-face or online
partnerships offer teachers the chance to share experiences and learn from each other
develop your skills and expertise at embedding global themes in teaching
complete activities with partner schools based on the Sustainable Development Goals (SDGs)
For more information please visit the website; Connecting Classrooms is about more than just understanding global issues, it's about upskilling both teachers and students to create positive change in the world.
School Trips to Kenya
Not only will you and your students get to meet the staff and students in your link school but you will have the opportunity to visit the homes of some of the families in the area. We can help you plan your trip and you will be looked after buy our experienced team in Kenya when you stay at Karibuni Eco Cottages.
For a short period of time, the UK government is offering grant funding for international exchange visits. Find out more here.
"Taking a group of sixth formers to Ndhiwa is by far the best thing I have done professionally. I saw a massive change in their outlook on life and levels of responsibility even at the planning and fundraising stage. Taking them to meet Kenyan families in their own home and seeing our partner school was humbling and life changing for all of us. The experience that the sixth formers had also had a positive impact on our whole school community on our return; from assemblies and further fundraising they were inspired to organise."  – Kat Lambert, Geography Teacher at Longbenton
"The trip to Kenya was one of the best things I have ever done; I loved every minute of it! It was such an amazing and rewarding experience. I got the opportunity to visit and teach local primary schools, visit student's homes, get involved with projects at Karibuni and go on safari at the end of the trip. I met so many amazing people which I could never forget; they shared their experiences, which was upsetting yet they still had smiles on their faces each day! Each person I met was unbelievably kind, generous and welcoming, despite some of their daily struggles. Visiting Arina Primary School and student's homes was overwhelming at times, but it really showed how much of a positive impact Team Kenya has on improving education and poverty in Ndhiwa. During the trip I learnt a lot about myself and it helped me to become a better person." – Amy Lou, Former Longbenton High School student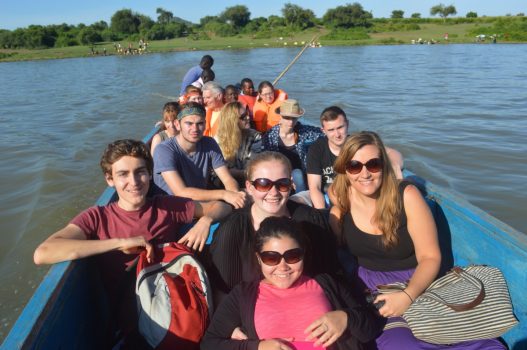 Kat and students on Lake Victoria