Corporate supporters
As a small charity we are reliant on the generosity of our partners to help us educate girls, empower women and transform communities in Kenya.
Whether they are volunteering their expertise, fundraising, donating or giving gifts in kind they are making a huge contribution towards our work in Kenya.
We have a wealth of experience in managing successful partnerships of all shapes and sizes, and we develop tailor-made partnerships which are mutually beneficial. Partnerships with Team Kenya help to motivate employees, engage customers and increase brand awareness. If you would like to discuss how your organisation could work with Team Kenya please click here.
Current Partners
Orange Bus
Orange Bus is a digital agency driving business through cutting-edge strategy, market insight, product prototyping and bespoke creative solutions.
Orange Bus generously donated staff time to develop Team Kenya's first website, saving us thousands of pounds and ensuring a high quality website to promote our work. Orange Bus staff have previously climbed Mount Kenya and visited our projects, and in 2018 they have teams taking on Kilimanjaro, the Great North Run and Hadrian's Wall Walk to raise vital funds for our work.
Finger Prints Design
Fingerprints Design offers a top quality print and design service ideal for seeing projects through from concept to completion.
Fingerprints Design provide Team Kenya with t-shirts, posters, flyers, banners and any of their other printing and design needs free of charge, ensuring that we can continue to spend more of our donations on project delivery in Kenya.
The Sword Inn Hand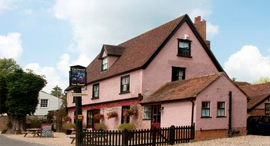 The Sword Inn Hand is a beautiful 14th century Inn, restaurant and pub in scenic rural Hertfordshire.
The Sword Inn Hand recently supported Team Kenya by raising funds for our work at their summer beer festival. Over the Christmas period they plan to raise more funds by adding an optional £1 donation on to each tables bill, and by match funding our upcoming Big Give campaign.