Blog
Aspire Scholarships Newsletter Autumn/Winter 2017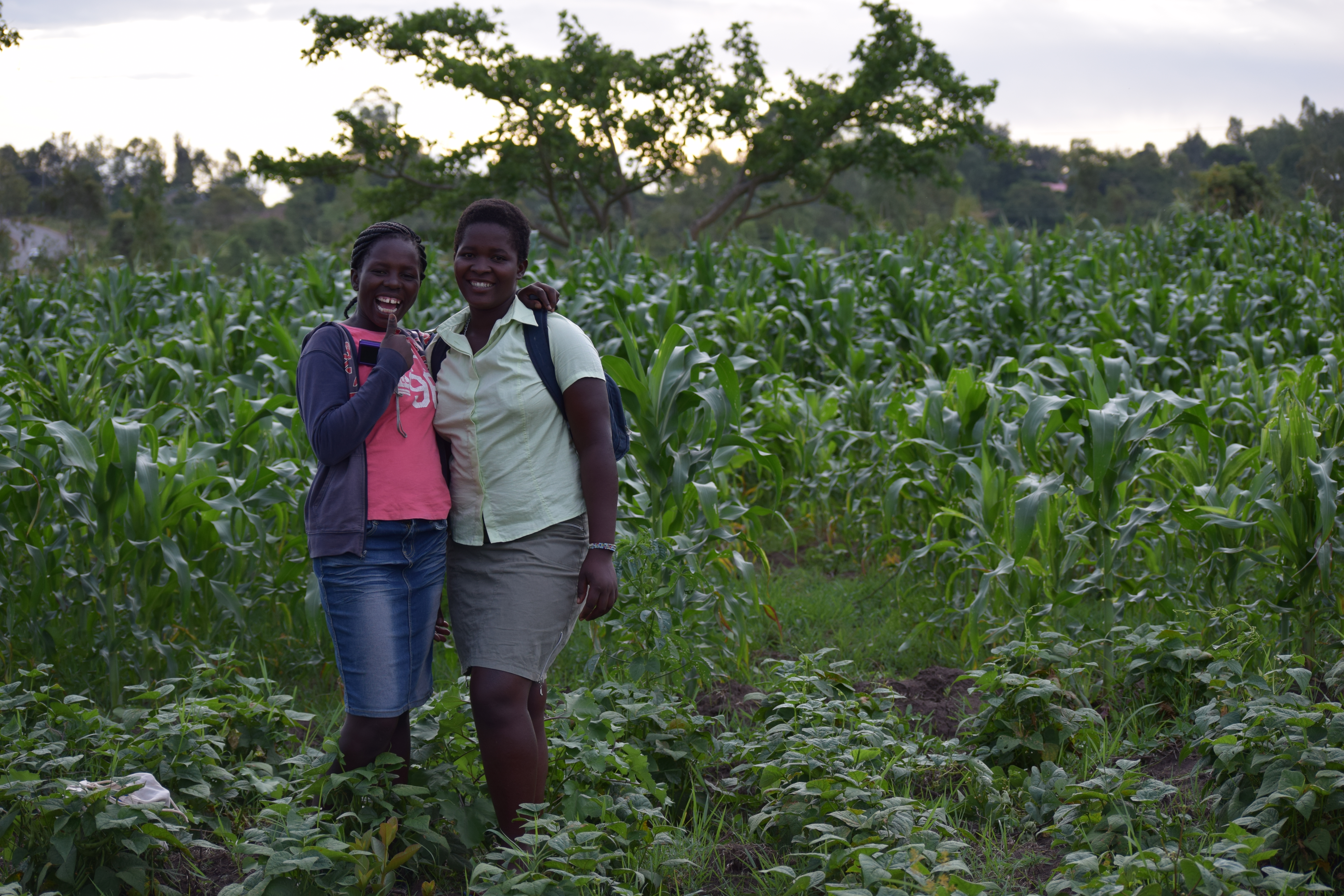 Celebrating Success!
19 girls in our Girls' Support Groups graduated from primary school in November! We are incredibly proud that all of our members in standard eight were able to complete their primary education. All of the girls performed well in their exams and were rewarded with good grades, that will allow them all to progress to secondary school.
Jane Odongo from Bongu Primary School was the highest achiever scoring a very impressive 350 marks. We expect Jane to enrol in a very good county level school in 2018.
Replacing sponsorship with empowerment
Due to the incredible success of our table banking and agricultural training programme we have decided to slowly replace our secondary school and university sponsorship programme with table banking, agricultural training and enterprise for mothers. Last year, all of the mothers in this programme were able to send all of their children to secondary school without outside support.
By empowering mothers to increase their household income, we are ensuring that every child in the family will benefit from a quality education. As we phase out our sponsorship programme we will support all of our current students to complete their education, while working with the mothers of our Girls' Support Group members to ensure that they will be able to afford to pay their daughters secondary school fees.
This will be the last of our Aspire Scholarships Newsletters as we move forward with our new projects, so please do make sure you are signed up to our mailing list, to get up to date information on all of our projects and our students.
The team
Although we plan to phase out our sponsorship programme fully in 2018, we still need to ensure our existing students receive the best support possible. We are pleased to be able to introduce Eliakim Otieno, our new Scholarship Officer, who has been in post since July. He was awarded a B.Ed. Arts from Moi University in 2012 and since then has been building experience in a variety of schools where he has been teaching, guiding and counselling students. Eliakim has been improving our record keeping, and maintaining regular contact with students, families and schools to ensure that the needs of our students are being met.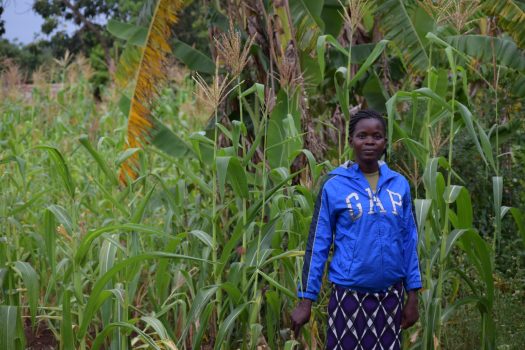 Eliakim is being ably assisted by one of our former sponsored students, Lencer, who has overcome many challenges to graduate from Migori Institute of Science and technology where she pursued a Certificate in Community Health and development. Lencer became pregnant at a young age and was forced to drop out of school to look after her child, Elvis, and help to look after her many nieces and nephews. With Team Kenya's support she was able to complete her secondary education. Lencer was keen to progress her education, but could not afford the fees. Using the entrepreneurial skills she developed as part of the Karibuni Youth Group Lencer began her own enterprise making and selling bricks and began farming her family land. The income generated through her hard work and determination helped her to look after her large family and fund her education. We are incredibly proud of what Lencer has achieved and think she is an excellent role model for the students that she is helping to support.
"Hard work pays, be independent and you will succeed." Lencer
Homework Club
The Homework Club was a great success during the recent school holidays, although some students had to miss several days due to the general elections. During these sessions we ran academic support, reviewed academic progress, set targets, provided life skills education and provided parental guidance to mums and dads.
KCPE exam results
| | | | |
| --- | --- | --- | --- |
| NAME | SCHOOL | CLASS | KCPE RESULT |
| Eurella Anyango | Arina | 8 | 273 |
| Nancy Awino | Arina | 8 | 279 |
| Hellen Atieno | Arina | 8 | 281 |
| Nancy Achieng | Arina | 8 | 264 |
| Diana Demba | Arina | 8 | 214 |
| Jane Odongo | Bongu | 8 | 350 |
| Pessy Aluoch | Bongu | 8 | 289 |
| Jesica Achieng | Bongu | 8 | 243 |
| Merceline Auma | Bongu | 8 | 267 |
| Laurine Holliness | Bongu | 8 | 243 |
| Sophy Thoth | Bongu | 8 | 196 |
| Saline Auma | Bongu | 8 | 154 |
| Hellen Ochieng | Koduogo | 8 | 269 |
| Emily Anyango | Koduogo | 8 | 255 |
| Christine Auma | Koduogo | 8 | 299 |
| Fridah Adhiambo | Koduogo | 8 | 244 |
| Lydia Asembo | Pala | 8 | 289 |
| Dorothy Achieng | Pala | 8 | 245 |
| Bilha Akinyi | Pala | 8 | 238 |
All of the girls in our Girls' Support Group graduated from primary school again this year, an achievement that we are incredibly proud of. All of the girls achieved grades that will enable them to go on to secondary school. Jane Odongo in particular performed excellently. We expect Jane to progress to a high quality county level secondary school in 2018.
Dorothy Achieng – Dorothy has done so well in 2017, achieving a grade that will allow her to progress on to secondary school! Her mother, Peres, was enrolled in table banking and provided with agricultural training so that she can increase her income sufficiently to pay for Dorothy's tuition in the future.
Dorothy is a partial orphan, having lost her father at a young age. Dorothy's mother is a small scale farmer who looks after Dorothy and her seven older siblings on a very limited income. Dorothy joined the Girls' Support Group in 2012 and has benefitted a great deal. Her grades in class have continued to improve and she has improved her grade from 212 to 245 in 2017 alone!
Tertiary Students
Our college and university students are currently on holiday, and most of them are back in Ndhiwa helping out with NCEDP activities and preparing for their upcoming exams.
Esline is currently in her fourth year of studying environmental science at Eldoret University, where she expects to graduate in April 2018.
Esline is passionate about protecting the environment and educating people about climate change. She hopes to get a job as an environmentalist when she graduates.
Esline is currently at home in Ndhiwa for the holidays and is helping out with the homework club at the resource centre.
"Education has made me to be someone to be counted on in the society. I aspired to have a better future as a child, and by the looks of things I am going to get it, through Team Kenya"
George Okatch has recently completed his diploma in clinical medicine and community health. In January, he will begin the first of his two attachments in 2018. Once completed George will be a fully qualified clinical officer and will be able to begin practicing.
"I am studying clinical medicine and community health, this particular course deals primarily with the practice and study of medicine based on direct examination and assessment of patients in order to diagnose, treat and prevent diseases. It also involves minor surgery procedures like incision and drainage, episiotomy and others. Primarily the clinical officer is the first point of contact for patients in Kenya, either within their community or at their GP or Hospital.
Under community health, it involves the medical and clinical science,s which focuses on the maintenance, protection and improvement of the health status of population groups and communities as opposed to the health of individual patients. For instance, when I was on placement in Western Kenya I did a community diagnosis which involves the identification of factors that affect the health of a population and determining the availability of resources within the community to adequately address those factors."
Thank you
We would like to take this opportunity to thank everyone who has contributed to the success of our scholarship programme since 2008, when we first launched it. Although we have decided to move from sponsoring students to a more sustainable model, student sponsorship has been an integral part of our work that has changed the lives of many young people from Ndhiwa. Many of these young people are now working with our team at NCEDP, supporting our work, or are working in other roles within the community and acting as advocates for gender equality and role models for the younger generation.
The boys we've sponsored have grown into educated, caring and compassionate men who wholeheartedly support the fight for gender equality in their community. Many of them have used their income to support their younger sisters to complete their education.
The girls we've sponsored are change-makers in Ndhiwa! They are educated, confident and proud. Younger girls look up to them and they serve as a reminder that girls deserve to be valued, appreciated and invested in.
We are so excited that even more girls from Ndhiwa will be able to follow in the footsteps of our previous sponsored students thanks to our new initiative, and that this time their own families will be able to support them through school.
Thank you so much for being a part of this project and helping us to change to course of so many young lives. We hope you will continue to support us as we hand over the reigns to families in Ndhiwa and help them to take control of their own futures.
If you have any questions or would like to have a chat with someone from Team Kenya please contact ben@team-kenya.co.uk or call 07557525673.