Blog
Lucy Bronze Shirts Raise £800 at Auction!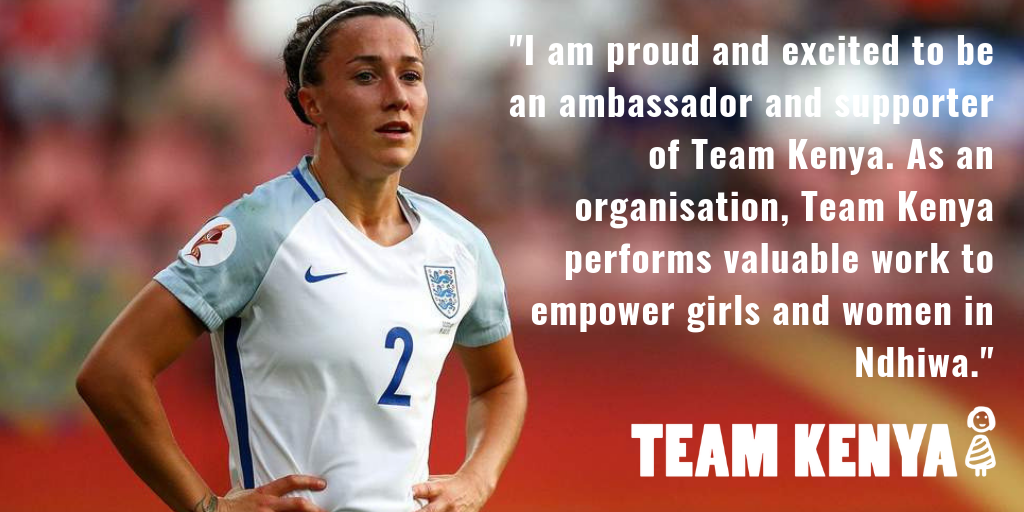 A huge thank you to England Lionesses and Olympique Lyonnais Féminin star Lucy Bronze, who kindly donated two signed shirts for auction to raise funds for Team Kenya! The items sold for just under £800, which will have a fantastic impact on Team Kenya's work in Ndhiwa, western Kenya.
Why is Lucy Bronze an Ambassador for Team Kenya?
"I am proud and excited to be an ambassador and supporter of Team Kenya. As an organisation, Team Kenya performs valuable work to empower girls and women in Ndhiwa, a community where marginalisation of girls and women is rife. I was shocked to learn that, of 100 girls starting a typical primary school in Ndhiwa, fewer than 16 will reach secondary school. Meanwhile 57 of those 100 girls will experience physical violence and 32 will suffer sexual violence during their lives. Learning of girls facing such significant challenges, compelled me to do what I can to enable them to reach their potential."
 "Team Kenya's work uses the power of football to promote strength, generate change and to overcome injustice. Mixed gender football demonstrates that girls and boys are equal and also provides a platform to engage both sexes in education to promote gender equality and tackle gender-based violence. I am a strong believer in football's ability to unite the population in the fight for equality; football has a unique ability to unite different groups which is one of the reasons why I love the game so much. It makes me very happy to know that girls in Ndhiwa will be empowered and united by football, in the same way that I have been in my life."
 "We are already seeing positive change in Ndhiwa, where the numbers of girls completing primary school are increasing and instances of gender-based violence are beginning to fall. However, there is still a long way to go."
Who are Team Kenya?
Team Kenya involves entire communities in Ndhiwa, Western Kenya in gender equality, so that girls and women in rural Kenya can create their own bright futures. We work with local primary schools, and the whole community that surrounds them to tackle the barriers that prevent girls from accessing quality education.
How does Team Kenya use Football?
In Ndhiwa, violence towards girls is common, with more than 6 in 10 girls experiencing violent or sexual threats in school. To overcome this culture of violence towards girls, Team Kenya uses mixed gender football to to sensitise children and young people on issues around violence against women and girls, challenge attitudes and behavior in the wider community, and identify girls that are in need of support.
Both boys and girls in partner primary schools gain football skills and opportunities to play and compete in mixed groups which emphasises the values of team membership, builds confidence and leadership skills, and demonstrates that girls and boys have equal potential. The programme consists of workshops that help girls to understand that they have the right to an education, the right to good health and the right to say no to inappropriate behaviour by boys and men. Boys are challenged to reconsider attitudes to girls and to accept that girls are equal to them in every way, and that they should be respected and are deserving of equal opportunities.
How can I get involved with Team Kenya?
Team Kenya is a small organisation. As a result, your support could make a huge difference to us! We are always in need of skilled volunteers to assist with our work in the UK and in Kenya, we rely heavily on people taking part in fundraising events on our behalf and we welcome any donations.
If you would like to keep up to date with what we're doing, please join our mailing list by giving your details below.