Blog
Stronger Together – Our response to Covid-19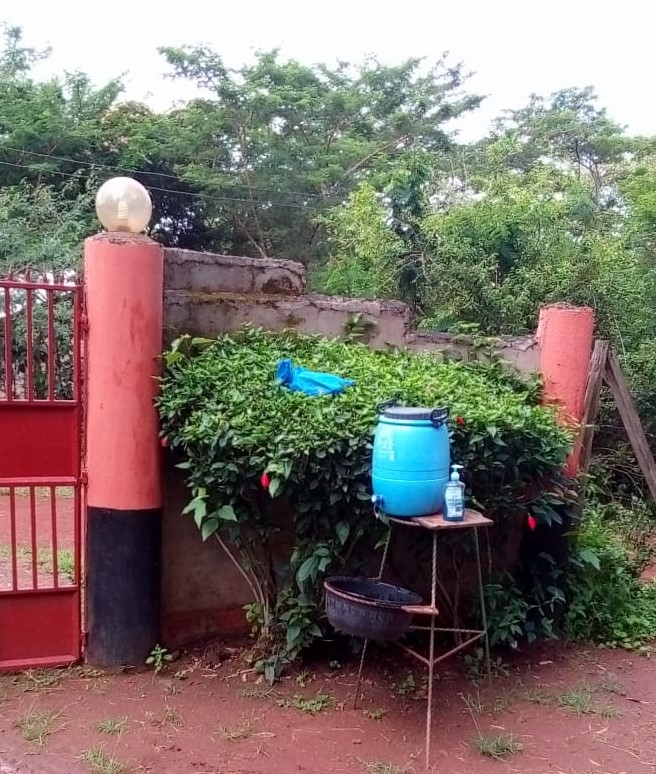 Firstly, on behalf of everyone at Team Kenya and the Staff and Board in Ndhiwa, Kenya, we hope that you and your loved ones are safe and staying healthy.  Our thoughts are with those who are especially vulnerable and whose livelihoods have been impacted. 
There's no denying that this is an extremely worrying and challenging time for everyone worldwide.  This is especially true for the girls and women we already work with in Ndhiwa, as well as our Kenyan staff and volunteers.
'No one is safe until everyone is safe': UN aid Chief on Coronavirus 
People in Ndhiwa are scared. Ndhiwa is remote and isolated, both physically and politically, and external support even at the best of times is extremely rare. The community is marginalised with very little influence or power, people feel unimportant and neglected and many are looking to 'Team Kenya' as their only source of moral and practical support and advice.  
The Kenyan Government has closed all schools and enforced strict restrictions and curfews to try to reduce the spread of the Covid-19 virus – this means that our usual means of distributing essential items, support and advice to the most vulnerable girls and their families are now closed off, just as their needs and risk are increasing.  
The impact of Covid-19 in Ndhiwa
Many of the problems our work strives to overcome are likely to be exacerbated by the Covid-19 situation. We know that the impact of Covid-19 will be much greater in countries like Kenya where health and social care systems are frail, the rule of law is weaker, and where there are already high levels of violence against women and girls, exacerbated by issues remote and rural communities already face on a daily basis. These are thecircumstances faced by our partner in Kenya, who need our support more than ever
We recognise that;
Public health information and advice will not reach our communities, leading to panic and sharing of incorrect information.

Government advice to wash your hands regularly is irrelevant to many in the community when they don't have access to running water or money to buy soap or hand sanitiser or disinfectant. 

There is a highly increased risk of violence against girls and women and abuse of children's rights.

Home is not a safe space

for many girls in Ndhiwa.

Lack of access to food and basics supplies – markets are closed and families live hand to mouth so have no savings or food supplies stored.

The fragility the Kenya economy and the impact of climate changes threatens livelihoods with a real danger of immediate and longer term hunger and famine.
Our emergency response
Last week immediate action was taken to close the office and library in Ndhiwa and for staff to work remotely. Sam Ochieng (sponsored student & trainee nurse) ran Coronavirus prevention and protection workshops at Karibuni Eco cottages for all our staff. We have been supporting the staff and Board in Ndhiwa to devise an Emergency Response Plan, including risk assessment and plans for both immediate and longer term effects of the pandemic, and sharing WHO guidelines.
We already support the most vulnerable and poorest girls and women in the community but that need is increasing rapidly and we are acting now. We are in daily contact with Risper and her team so we can remain flexible to respond to the changing and increasing needs, whilst also keeping our staff and volunteers safe and strictly enforcing the Kenyan Government's guidance.   
We have released an emergency fund of £3,000 today to be spent using our normal strict procedures, but allowing for some flexibility, with Board approval, for any emergency response required. This week's plans include:
Providing awareness training and dissemination of essential information on Covid-19 to the most vulnerable families we support so they can protect themselves. This is being delivered through our existing network of partner school communities with the support of local Chiefs.

The most vulnerable girls who regularly receive monthly support are being given two months supplies including soap and food for their families.
All sponsored students are now at home having being given money for transport and additional funds for family support. Risper is in regular contact with them.  

Karibuni Eco-cottages are being used as a safe space for senior staff and Board members to meet and hold urgent planning meetings whilst adhering to social distancing and safe practices.
In our next phase;
Our Agribusiness Manager, Erick, is working on plans to support the women's farms to overcome the challenges of current excessive rain and the inability of families to plough and plant maize & beans as normal this season. He is devising plans to provide the most appropriate seeds or seedlings so families can start to grow for next seasonas a source of food and in the longer term for income.

Agribusiness Officer Francis is working with the school committees assessing all of the school business farms to ensure their crops don't fail.

Erick, Francis & Millicent are working with all of the Karibuni staff to ensure the demonstration farm is expanded to provide food, including honey, seedlings and trees.

We will be training staff on enhanced digital skills to continue working remotely to support the most vulnerable, with a view to being able to train girls and women on enhanced digital skills too. All staff have laptops and smart phones.

We are enhancing child protection and safeguarding training programmes to be delivered to communities to help protect girls and women from the increased threat of violence while the normal support mechanisms are suspended.

We are exploring plans for Karibuni Eco cottages to serve as a

Safe Space

for girls.
In the meantime, we are also working here in the UK with our current funders and seeking additional funding to mitigate the longer term impact of the crisis. At the same time, we are still continuing to make progress in close liaison with the Staff and Board in Kenya towards our important strategic work to Shift the Power. Although we can't meet in person, we do have many opportunities for remote working in these and other areas, and would really appreciate any support you can give us in the short or longer term. We rely very heavily on a very small number of volunteers and two part time staff working on 3 days per week in total. We will be updating our blog with more information about NCEDP's rebranding to Twende Pamoja and our plans to Shift the Power alongside more regular updates and information on issues affecting the community in Ndhiwa.
In this together
If we are not all safe, none of us can be safe. Never before has the world been so united in the face of such adversity. It's been heart-warming to see the ways communities have come together to support each other at this time of worldwide need. The displays of empathy, altruism and kindness will hopefully be here to stay and change the way we support each other across the world. We need to unite now to keep the pandemic away from communities that do not have the health and social systems to protect them.
Thank you, as always, for your unwavering support for the most vulnerable girls and women of Kenya. We hope you have all you need to stay safely indoors. If you would like to support our emergency response you can donate on our website here. Any amount will go a long way to ensuring the community in Ndhiwa don't feel like they are facing this alone and unprepared. If you would like to volunteer please contact me via my email address, val@team-kenya.co.uk. 
Wishing you, and your loved ones, all the best.
Val Wilson
Founder – Team Kenya