Blog
Team Kenya 15th Anniversary Celebration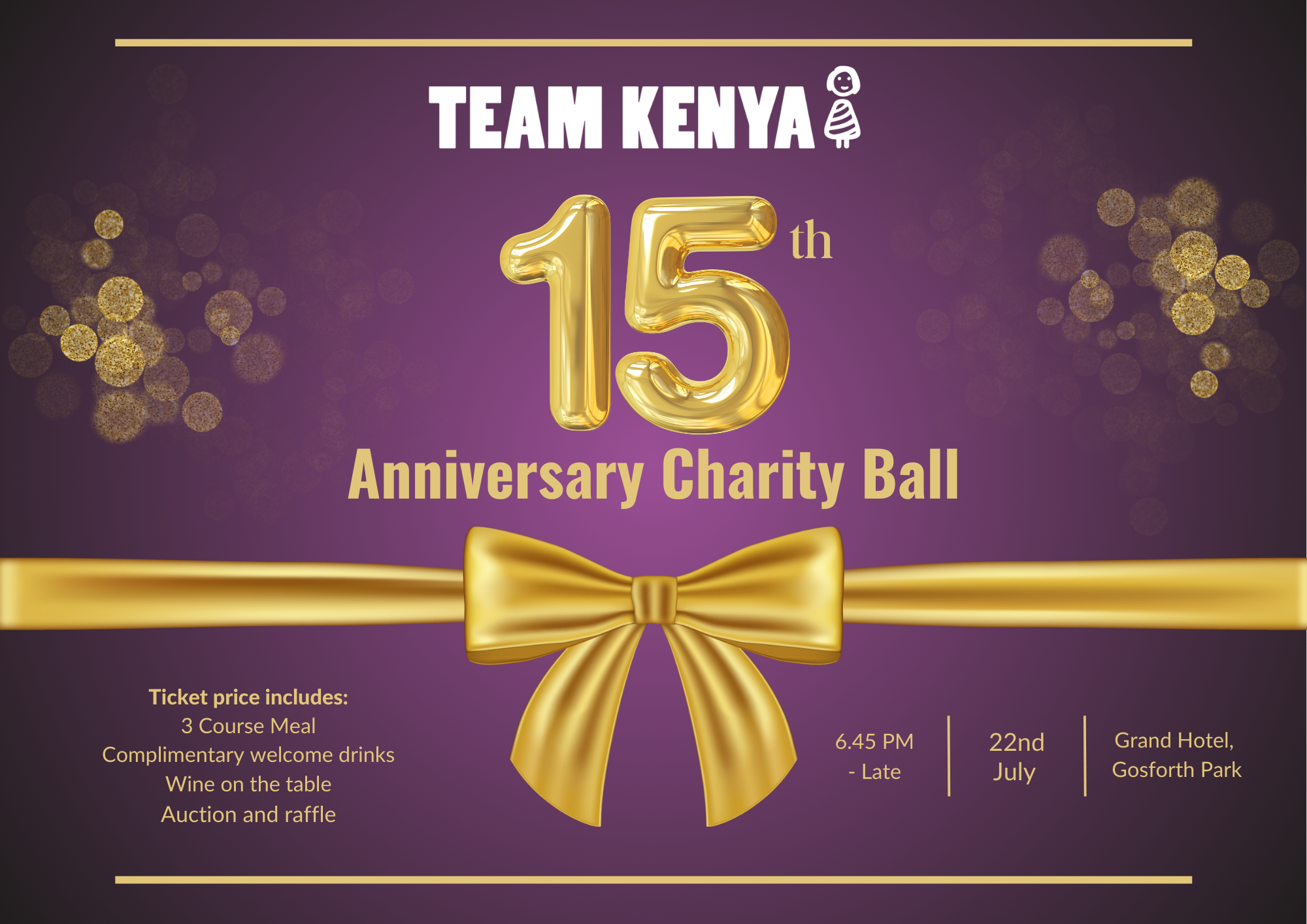 Don't miss out! Grab your tickets now: www.teamkenya.org.uk/anniversary-ball-2023
This summer, we are celebrating 15 years of Team Kenya and would like to invite all of our supporters, friends, families and colleagues along to enjoy a fantastic evening of connecting and reflecting on everything that has been achieved since 2008.
The past 15 years have seen us impact an estimated 80,000 people in Ndhiwa, including 25,000 young girls. Team Kenya's work has had a remarkable impact on the Ndhiwa community, enabling a fantastic community-led transformation since Valerie Wilson (our founder) first visited in 1999.
Our deep connections with the Ndhiwa community and our partner NGO Twende Pamoja has allowed for sustainable, impactful and meaningful change to take place over the last 15 years. We cannot wait to see how this grows in the years to come.
This impact is made possible by the generosity and support of our network in the UK, and so, on our 15th Anniversary we are asking YOU to help us make an impact and support our work by attending Team Kenya's Ball this summer.
Our 15th Anniversary event will be held at the Grand Hotel Gosforth Park, Newcastle. The address is: High Gosforth Park, Newcastle upon Tyne, NE3 5HN.
We have reserved a number of hotel rooms for our guests for the night of the 22nd July, if you would like to secure one, please contact Gosforth Park Hotel to purchase your rooms. Their contact number is: 01912361612 or you can email them at: groups760@theelitevenueselection.co.uk. Check out the venue here: https://www.britanniahotels.com/hotels/grand-hotel-gosforth-park-newcastle
Parking at the hotel is free. Make sure to fill in your car's registration at Reception on arrival to avoid a fine.
To commemorate such a fantastic milestone, our dress code is: Smart – we suggest wearing suits and dresses!
The evening will begin at 6.45pm with complimentary welcome drinks in the foyer, before seating in the ball room.
Each guest will be served a 3-course meal, and there will be bottles of wine on the table.
We have the fantastic Charlie's Angels Band performing live throughout the evening and we will also be running an auction, raffle, and have a DJ to keep you entertained during the evening… we hope to see you all up and dancing!
The event will finish by 12:30am.
We would also like to thank Gosforth Park Hotel for kindly sponsoring complimentary welcome drinks for all attendees. Additionally, we extend special thanks to our corporate partners for sponsorship and their support of this event.
We are looking for further sponsorship for this event, as well as auction and raffle prizes. If you, your business, or anyone you know might be able to help us, please get in touch with Ellie at ellie@team-kenya.co.uk
Not only will the evening be a wonderful opportunity to bring together Team Kenya's supporters, both old and new, but all profits made from the evening will go to Team Kenya's vital projects to support marginalized girls, women, and families in Kenya.
Please join us in celebrating this amazing occasion! Purchase your tickets via the link below, sales will end early July: