Blog
Newcastle University Trip to Ndhiwa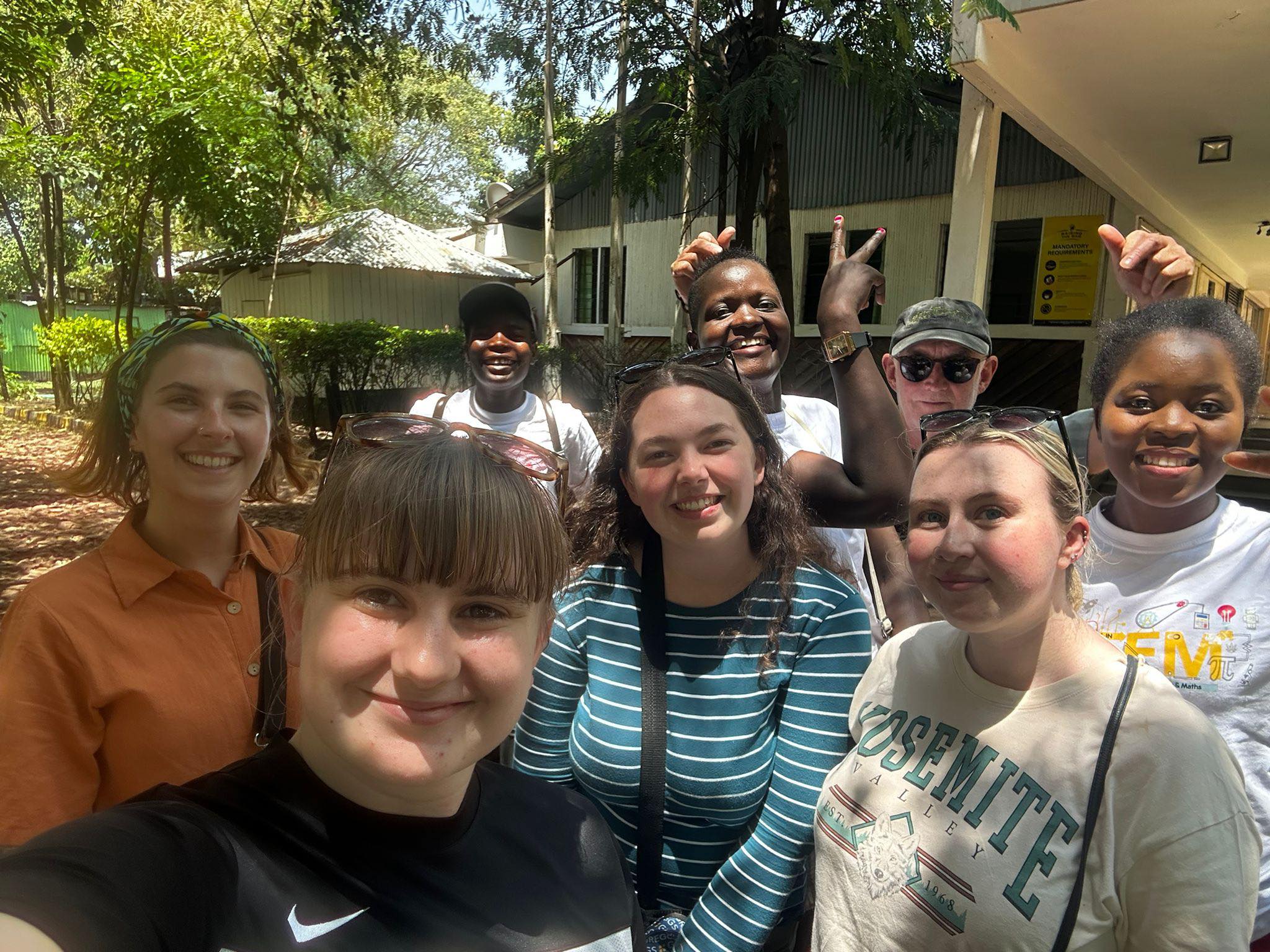 We are delighted to share a blog written by one of the Newcastle University Team Kenya Society members, who has recently returned from a fantastic trip to Ndhiwa. Read Bibi's blog below, to find out more about the students' adventure…
Arriving
After our long journey from Newcastle Airport our group of 5 arrived at Jomo Kenyatta Airport at 7am. We met up with our driver Robert and began our journey to Ndihwa after leaving the airport. 
Despite being very tired from our already long journey to Nairobi, we all very much enjoyed our journey in the van, as it showed us parts of Kenya we probably would not have seen otherwise. When we weren't catching up on sleep, we were gazing out of the window, fascinated by what a wonderful country we were being welcomed to. It was so interesting to see people, animals and motorbikes weaving in and out of traffic, as well as the gorgeous landscape that surrounded us.
As we approached Ndihwa, the roads became increasingly narrow and the terrain very bumpy. Nevertheless, our driver Robert was indeed a pro, handling each path confidently. 
Upon arriving at Karibuni Eco Cottages, we were immediately made to feel welcome by staff, greeted with a handshake and hug, followed by delicious food. We then unpacked and chilled, ready for our adventure. Karibuni is a gorgeous place to stay and became our home for the next 9 nights. It has huts for guests to stay in, accompanied by lots of trees and a perfect view of the sunset from the outdoor seating area.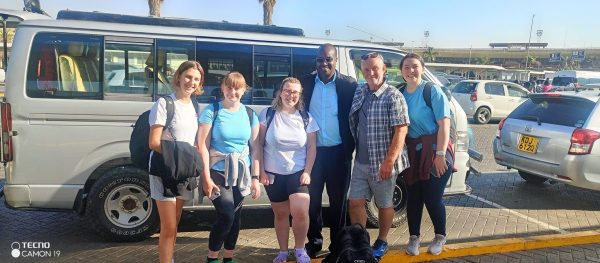 Settling in at Karibuni & learning more about the site
Each morning we were greeted by Salome and Mollie who prepared breakfast for us. We were offered a variety of different foods, including omelette, weetabix, eggy bread and pancakes with honey collected from Karibuni's bee hives. We were shown around the eco-demonstration farm by Francis and Sam, which is an impressive sustainable farm on the grounds of Karibuni, growing crops such as roselle, eucalyptus and different types of bananas. We learned more about how Twende Pamoja supports the local community through agricultural training. It was also interesting to learn how Karibuni supports Twende Pamoja's partner schools through selling crops, something we witnessed at our school visits.
We began to feel more at home as we relaxed on evenings after an action packed day, chatting with one another, playing some rather competitive card games, reading, enjoying sodas and Tusker, and even some Roselle juice. Lunch and dinner were served whilst at Karibuni, displaying Salome's wonderful cooking skills, where every meal is made with love. We got to try a variety of traditional foods such as ugali, mandazis, chapatis and different soups. Everyone enjoyed every bite!
It was also a pleasure to learn more about the staff working at Karibuni, including our lovely host Erick, who told us more about his story and the Luo culture in Ndhiwa and how Team Kenya had supported him to get to where he is now. We also met inspiring beneficiaries such as Anatalia, who told us her story and how Team Kenya's support made her who she is today.
Exploring Ndihwa
Throughout our visit we had the opportunity to walk from Karibuni into the town, which was around a 20-minute walk. We stopped for some ice cream at the local shops too – but due to the national power outage at the start of our visit, our ice creams melted almost immediately! We walked around the markets and waved at friendly faces as we began to settle in. It was so interesting to see how the lifestyle in Ndihwa is so different to back home.
Meeting the staff
Once we had settled into Karibuni and gotten to know the area, we were introduced to the LRC (Learning Resource Centre) where some of the Twende Pamoja staff are based. Here we met some of the team and had the opportunity to interview them for Abbie's dissertation research and learn more about the projects. For example, we met Grace who runs the STEM projects, empowering young girls to think scientifically and logically, encouraging them to enjoy learning and to think about careers in STEM, recognising that this is not a career path limited to boys. This is just one of the amazing projects carried out at the LRC. The Girls Support Groups are also sometimes held in the LRC, which provides extra support to girls in partner schools outside of school hours and during the holidays.
We also had the pleasure of observing a youth group table banking session which provided an insight into how Twende Pamoja supports members of the community who can take loans to support themselves financially and set up their own small businesses.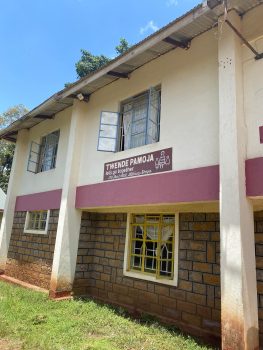 Football for Empowerment
On our first and last days, we had the pleasure of watching (and for some members of our group, participating in) the girls football sessions led by Sam. This project runs at the weekend, and brings young girls together to play football, breaking down gender norms and reinforcing the idea that girls can do anything they put their minds to, regardless of gender, and developing life-long skills such as resilience and teamwork. We were in awe of the talent and commitment shown by the girls, even in the scorching heat.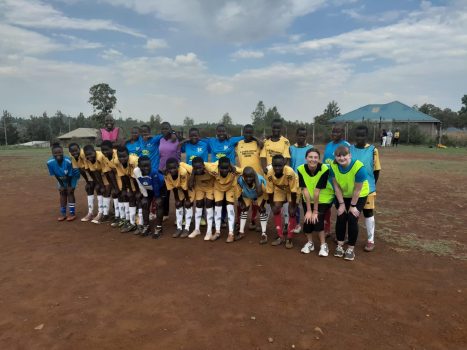 Homa Bay Tourist Hotel Visit and Lake Victoria
On our second and last day, we visited the Tourist Hotel at Homa Bay. We stopped for some lunch on our first visit and took a stroll around the fish market whilst we waited for our food. On our last day we stopped for some drinks and relaxed in the sun after a boat trip on Lake Victoria, on which we saw some hippos! 
Visiting the Homa Bay area and Lake Victoria were very exciting activities which provided a break from the more emotional elements of the trip such as home visits.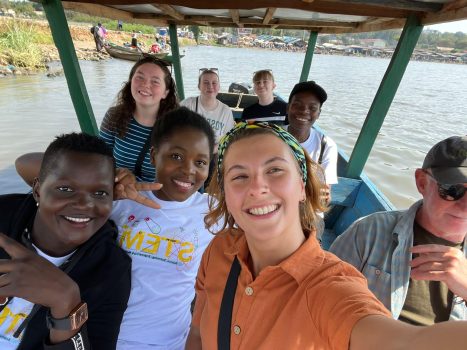 School visits
It was an honour to visit three impressive partner schools while in Ndihwa. Our first school visit was to Kobodo, which had many delightful students who all seemed to be enjoying school and thankful for the support they received from Twende Pamoja and Team Kenya. We saw how the students sat together and sang with the teachers after school had ended after having had a productive day at school.
The children were constantly smiling and waving at us, welcoming us to their school. It was heartwarming to see so many young people eager to learn thanks to the support of Twende Pamoja.
We also had brief visits to Rakoro school and Ndihwa Township school – both were led by passionate teachers whose visions aligned with Twende Pamoja's mission to support and educate young people in the community.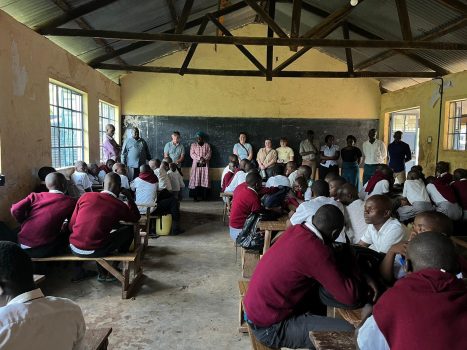 Home visits
Twende Pamoja staff members Vera and Anatalia showed us to the home of a young girl supported by Twende Pamoja so we could understand her circumstances. Her situation was unimaginably difficult – her walk to school was already a challenge, but despite this she made it to school every day, ready to learn. We learned about how Twende Pamoja supported her and her family. Her mother is a widow and unable to work, the circumstances in which she lived in were very difficult, but she still had hope and passion to learn, which inspired us. It was amazing to find out she had hopes of becoming an engineer one day and that she was interested in maths.
Our second home visit was to another young girl whose situation was equally difficult. Her younger sibling was disabled and left alone for long periods whilst their mother worked outside. It was heartbreaking to learn this, but we were all glad to know Twende Pamoja was supporting her with school materials and other essential items. We were also able to give both girls some clothes and stationery donated by Team Kenya, and the smile on their faces is something none of us will forget.
Making friends for life
Not only will we never forget this trip for the things we have seen and learned, but also for the friends we made. While we were in Kenya it truly felt like we were part of a family when we all were together having a great time. One night consisted of playing games and getting to know members of the Twende Pamoja youth group, and another was exclusively a Girls' Night – full of games, amazing food and memories that we will remember forever.
Our penultimate night was also a party night round a bonfire, which was so much fun. It's certain that the community in Ndihwa know how to party! We were thoroughly put to shame by everyone's impressive dance moves – all we had was the Macarena!
It was definitely one of the most inspiring trips we had the pleasure of taking. The people we met and the things we saw will never leave our memories.