Blog
Top Ten Achievements in Ten Years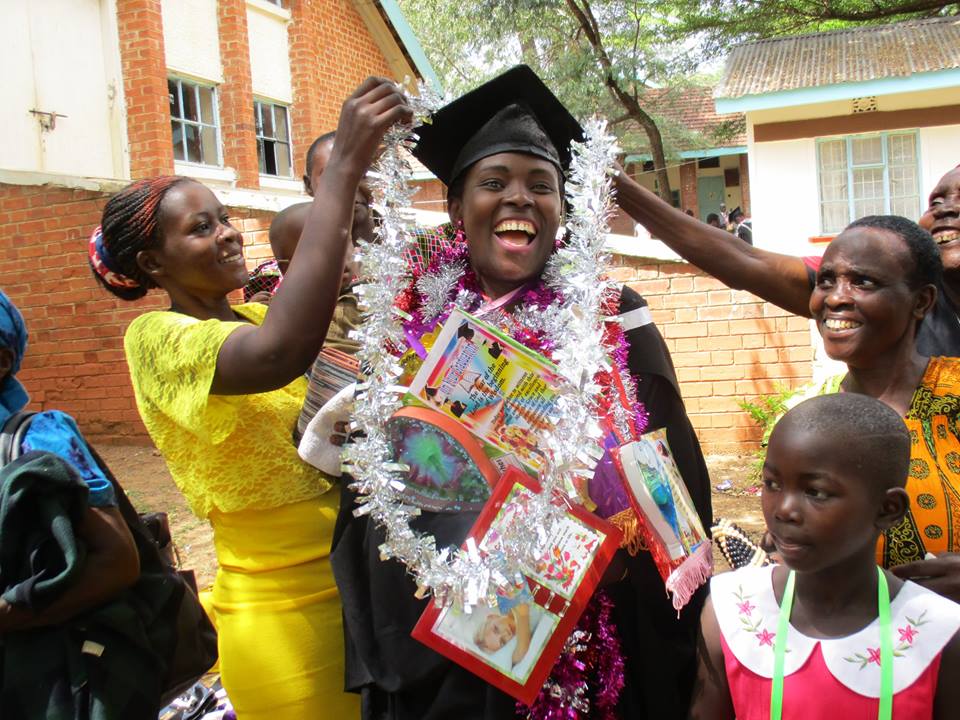 #TeamKenya10
Guess what? It's officially our 10th birthday this year. So, to celebrate, we're going to shout about our top ten achievements since our lovely CEO, Valerie Wilson, founded us in 2008.
1. In the past decade, Team Kenya has impacted over 60,000 people with our programmes in Ndhiwa, including over 20,000 girls.
2. Our successful Raising Achievement programme – which works alongside schools to improve the quality of teaching and, you guessed it: raise achievement, is now being expanded to 28 schools. When we started this partnership in 2012, one partner school – Arina Primary, had no girls in the final year. Now, there are 30 girls currently studying in their final primary year!
3. Thanks to a lovely lump sum of funding from Comic Relief, we were able to design and implement a research and intervention project to identify and address the root causes leading vulnerable girls in Ndhiwa into high risk situations. The result? Our School Related Gender Based Violence (SRGBV) Report.
4. This led us to develop Brighter Futures, a mixed-gender football programme opening up the conversation in the Ndhiwa community on gender-based violence, giving equal opportunities for girls to thrive in sports and school, and providing support and counselling to those vulnerable to, or victims of, gender based violence.
5. We have provided agricultural training to over 400 mothers to date. By giving them the tools to create food security and economic sustainability for them and their families, each one of our trainees was able to send their daughters to secondary school for the very first time.
6. Our Aspire Scholarships saw many girls like Anatalia and Roseline further their education over the past decade – but due to the incredible success of our table banking savings scheme, agricultural training and enterprise for mothers – we're now swapping out sponsorship for sustainable solutions; by empowering mothers to increase their household income and support their own children through school.
7. By supplying safe water and female-only toilets in schools, less girls are missing out on their education during their periods. However, we're also tackling period poverty and the social stigma around menstruation by running sessions on menstrual health and hygiene, how to use sustainable pads, and most importantly, supplying the girls with the products they need.
8. In early 2018, the beginning of our tenth year, we raised our millionth pound with the help of our amazing volunteers doing fundraising challenges both in the UK and overseas. Fancy climbing Mount Kenya, anyone?
9. Our Karibuni Eco Cottages have played host to hundreds of volunteers, visitors, women's groups and programme beneficiaries over the years. The community-based initiative, which practices ethical and sustainable tourism, has a farm, greenhouse and poultry, and employs local staff, with all profits re-invested back into Team Kenya projects.
10. Last, but by no means least, is our Koduogo School Business Farm. We supplied the school, which has over 1000 students and only 8 teachers, with £1500 to create a school business farm. The main goals of the farm being to generate income to expand the school, improve safety, invest in more teachers and provide essential resources for girls.
And we're incredibly pleased to announce that in two years' time, our relatively small investment will be bringing the school in between £46,000 and £77,000!
Phew! That was a lot of proud moments to mention but there's a whole lot more we haven't told you over on our website…
It's been a busy ten years here at Team Kenya, so why not come and celebrate our successes with us at our big birthday bash in November? Get suited, booted and dressed to the nines for our 10th Anniversary Ball and help us bring in the next decade (and beyond) with a bang.
Tickets available here.