Blog
Education for Girls in Lockdown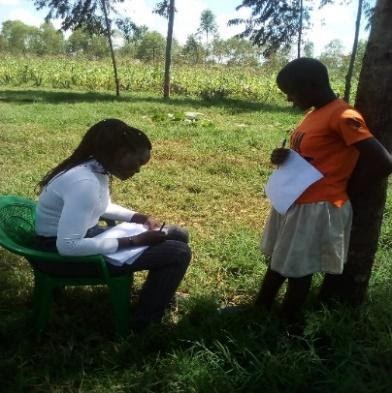 Similar to most government measures across the world, schools in Ndhiwa have closed in response to COVID-19. Whilst school closures are necessary to control the spread of the virus, this measure has exacerbated existing gender inequalities in education. In Ndhiwa, girls are more likely to be given the responsibilities of chores and childcare when at home, and their learning is not seen as a priority. This can lead to them never returning to school at all.
The programs we run through our partner schools, including our 'Girls Support Groups' and 'Brighter Futures', have had to be put on hold. However, our team are working tirelessly to keep girls in education with initiatives such as reading groups, tuition sessions, and providing home learning materials. Our 1-2-1 tutoring is currently focused on girls in Class 8 (aged 13), who will have their exams next year when they repeat the year.
Joan Mercy, a Peer Mentor in Ndhiwa said; "Many of our vulnerable girls have been given exam papers to do at home which will be marked. Each of them have received books to read and textbooks for their revision and they are doing well in this at home."
Our peer mentors have personally visited our partner schools to carry out needs assessments, promote our Safe Space Program, and provide information and advice regarding COVID-19. They are able to provide valuable support to girls with their home learning including; confirming assignments, checking the condition of their solar lamps for reading, and providing follow-up supplies to their urgent needs.
During May, soap for hand-washing and masks were distributed to 450 girls, 30 girls from each of the 15 partner schools, with parents and guardians trained on a thorough hand-washing technique. Additional supplies were distributed to 150 of those girls, the 10 most in need from each school. These supplies consist of green-grams, rice, sugar, washing powder, and cooking oil.
Donations at this time allow us to cover the cost of transport and supplies, and keep most of our staff at least part-time employed, meaning that we have the personnel to maintain contact with the girls we usually support in school. Our team are able to encourage the continuation of  girls' education whilst at home, thereby increasing the likelihood that they will return to school once it is safe to do so. By achieving gender equality in education we can drive gender equality in society. With your support, we can make sure the most vulnerable girls in Ndhiwa continue to attain a good quality education.