Blog
Protecting Girls in Lockdown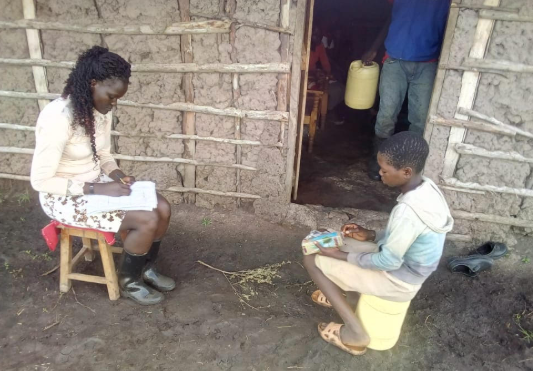 One of the main global responses to COVID-19 has been to close schools, and Ndhiwa has been no exception. When schools are closed, our girls are at home. Home is not always a safe space as there is an increased likelihood of child abuse and neglect. Girls are likely to be exposed to violence, and left without access to food. There have been increasing incidences of child labour, sexual violence, physical assault, neglect, and malnutrition. These cases are becoming more difficult to handle and prevent now schools are closed.
One of our protection initiatives is a Safe Space Program at Karibuni Cottages. This program ensures the safety of vulnerable girls in the community and provides a safe and secure environment for those affected. Even within a short time, it has become a sanctuary for girls, offering them relief and protection if violence occurs. Karibuni has always been a safe space for girls to visit but has become increasingly important during this time where our girls are more vulnerable at home.
Staff have been trained to be proactive and ensure the earliest possible detection, intervention, and reporting of abuse. Additionally, staff have and will continue to receive regular safeguarding training to provide guidance and counselling to vulnerable girls.
For the girls who cannot travel to Karibuni, staff are being supported with transport and communication costs to enable them to stay in touch and visit vulnerable girls and their caregivers. Therefore, we are able to ensure we maintain regular contact with the most vulnerable families to ensure immediate support and guidance during this difficult time.
Our women on the ground are demonstrating independence and leadership when protecting vulnerable girls at risk. Vera, Peer Mentor in Ndhiwa said: "Child abuse is on the rise as schools are closed. Girls are at home with little support from parents who are not able to meet their basic needs. Many young girls in Ndhiwa believe they should marry now to reduce costs to their families at home.  I am providing counselling and guidance to the girls in our village to prevent this from happening during this COVID-19 pandemic" 
Your support will allow us to continue our Safe Space Program at Karibuni Cottages and protect vulnerable girls from abuse. It will also help us to stay in regular contact with girls from the poorest families who can't travel to Karibuni and allow us to provide our girls with extra support supplies such as sanitary pads, pants, flip flops, and Vaseline.